---
Craft Show
Yellow Pages ©

Toll Free: (800) 871-2341
Tel: (562) 869-5882
Fax: (562) 904-0546

Office Hours:
M-F 10am-8pm EST


~ Safety & Security at Shows ~
Art & Craft Shows, Fairs & Festivals


It doesn't take much effort, just a higher level of awareness to ensure your safety on the road and at shows. The following pointers should become part of your show routine.
The day before a show, and again before you leave

, do a quick walk-around your car: check your tires and

make sure there is no puddle of liquid under the car

. You can avoid a lot of grief by repairing or replacing tires and taking care of other problems so you won't be stranded by an

avoidable

repair problem.

At the show, park near a light .

It's not dark when you arrive,

but at the end of the day, you will be safer packing and loading in a well-lit area.

Try not to be the last person out of the building

at the end of the show.

Wear a fanny pack , - in front of you, as a belly-bag, low and loose. As the day progresses,

remove your checks, charges, and large bills from your cash box and put them in your belly-bag.



Don't latch your cash box. One of the tricks that thieves use, especially at outdoor shows, is to reach over, grab the cash box, and run. If the box isn't latched, it will open and dump the contents onto the floor. (There shouldn't be very much in it at any time, -$50 worth of singles and fives and change. The rest should tucked away on your person.)

Don't put all your eggs in one basket

. Even a fanny pack can disappear when an experienced pickpocket slices through the belt with a utility knife. Use an alternative storage place, inside your clothing. Several models of 'undercover security wallets' are available from many sources, including TravelSmith (1-800-950-1500 www.travelsmith.com. It takes only a minute to transfer part of the money from your pack to your undercover wallet.

At restaurants or gas stations

don't discuss the show and how busy you were.

People will overhear you and imagine you are carrying tons of cash. You may as well be carrying a sign that says,

"Mug me."



Get rid of your show badge

.

Put it in your pocket

when you leave the show. Most people forget about their badge, and it's a little badge that advertises the money you are carrying. Put it out of sight!

If you stay at a motel

,

leave the TV or radio on while you are out of the room. Leave a 'Do Not Disturb' sign on the door so it looks as if someone is in the room at all times, especially if you store your extra inventory there.

Set up your booth

with secure corners so no one can come into your private space. Make sure valuables are stashed out of reach and out of sight.
Don't leave your neighbor to watch your cash

. Remove cash and checks from your cash box when you leave your space. He will probably be willing to watch your

booth

while you are absent, -but if he gets busy, he may be unable to give your booth much attention. You will both feel better if you have your money with you.
Even though it's a secure space

, when you leave your booth overnight, remove your most valuable pieces , and cover the rest of your merchandise with sheets or large covers. Next morning, arrive early as soon as the doors open. In your car:
A flashlight with new batteries.
A new can of Fix-A-Flat

, (it goes hard after a year or two).

Quarters for phone calls and tolls

.

Maps.



A 3x5 card with written directions

to and from the location
Pen and paper.
Cell phone if possible.
Store a blanket in the car for winter traveling

, in case you are stranded on a back road.
In winter, don't let your gas tank go below half full;

the larger the air space in your tank, the more likely your gas-line will freeze. Pour a can of dry gas into your tank with each fill-up when the weather's below freezing.
Reprinted with permission from Art & Craft Show Yellow Pages for Craftsmen & Artists. CHOICES publishes more details about each show to help you choose the best shows for your work.
Free 7 Day Trial to Craft Show Yellow Pages or Craftmaster News!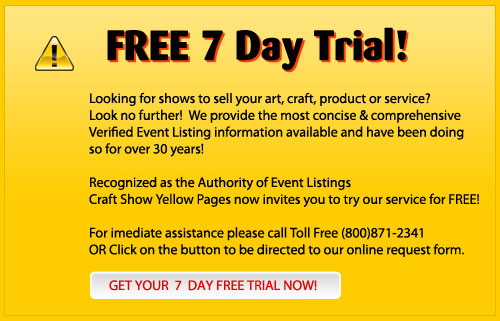 Art & Craft Show Yellow Pages is your #1 Reliable source providing detailed information about Art and Craft Shows, Fairs and Festival. The Online Show Listing System for Crafters, Artist, Vendors and Event Promoters.
When you subscribe to Art & Craft Show Yellow Pages not only will you get 24/7 online access to our unique copyrighted data, but you can also request at any time a printed copy for an additional $15.00 dollars each print (Includes Priority S & H) as long as your subscription is current.
Your one year subscription (1 yr) includes instant access to our online system and as a current member you can benefit from Print-on-Demand, our exclusive member service that allows members to request printed copies of the most current events for an additional $15.00 dollars each print (Includes Priority S & H)
Rent your booth today! Get contact information to each show NOW!

Get Detail information about each show easy and fast with our copywriting quick code format.

Google Geo Coded Radius Zip code search

Show Reviews & Comments by Exhibitors

Easy-to-Read Listings & Reviews
(with our copyrighted data arrangement & organization)

Read your show listings on the GO! Optional Print-on-demand book!

Save on printing costs by using Art and Craft Show Yellow Pages

The Most Complete, Accurate, & Up-To-Date Show Listings, Guaranteed!

Call us toll free at: (800) 871-2341

We list detailed information about the following events:
•Art and Craft Shows
•Fine Art and Fine Craft Shows
•Street Fairs and Festivals
•County & State Fairs
•Home & Garden Shows
•Farmer's Markets
•Antique & Collectible Shows
•Music Festivals
•Car Shows
•Holiday & Gift Shows
...and much more.
Art & Craft Show Yellow Pages ™ is now Online for only $48.95 a year! Faster and easier to find more events, Printed On-Demand for current subscribers only at $15.00 Each Print (Includes Priority S & H).

Click Here to Browse Our Online Database of Events for Sample Event Listings - Now Nationwide!

Sell your arts and crafts at Fairs & Festivals. Find out where the shows are and start selling at local, state and nationwide events. Sell at farmers markets, sell your art at street fairs, sell food at festivals, sell clothing at craft shows, sell jewelry at street fairs and more.
We list all events Nationwide! We include detail verified information for each event! This is the best source for event information and is ideal for vendors looking to sell their products or services whether you are selling food, promotional items, clothing, antiques, jewelry or any items ranging from hand made to buy and sell.
Subscribe NOW and get instant access to the most reliable event listing information you can count on!

Art & Craft Show Yellow Pages is a regional show guide for craftsmen artists, food vendors and resellers in Alabama, Arkansas, Connecticut, Washington DC, Delaware, Florida, Georgia, Iowa, Illinois, Indiana, Kentucky, Louisiana, Massachusetts, Maryland, Maine, Michigan, Minnesota, Missouri, Mississippi, North Carolina, New Hampshire, New Jersey, New York, Ohio, Pennsylvania, Rhode Island, South Carolina, Tennessee, Virginia, Vermont, Wisconsin and West Virginia !
Art & craft show listings contain in-depth details and information to help you choose the right shows to sell your arts and crafts, promotional items, food vending, trade or wholesale.
All shows are not equal.
Choose your shows by targeting your customer. Will your customer be there? We even publish information such as: 3 stages of live music, pony rides, Antique and Classic Car Shows,. . . - more!
Real show listings with detail descriptions like, event attendance, cost of booth, size of booth, what you can sell at each event or signup deadlines to event. Choose from detailed listings according to your preferences; we let you know if a show is indoors, outdoors, in tents, or in a mall. We even publish eligibility requirements, - so you will know if a show is an 'Open Show' a 'Juried Show' or trade or wholesale shows. If a show is predominantly Contemporary, Traditional, or Country , we print that information too, to help you find the right venues to sell your work.
ART and CRAFT SHOW YELLOW PAGES is the most important tool in your business kit! Subscribe with confidence! We guarantee it will help you with your business, or we'll refund the balance of your subscription!