---
Craft Show
Yellow Pages ©

Toll Free: (800) 871-2341
Tel: (562) 869-5882
Fax: (562) 904-0546

Office Hours:
M-F 10am-8pm EST


~ Craft Show Survival Gear ~
Find out why this is the most helpful craft show guide.
Things You Really Need When You Exhibit Your Work
We've discussed this subject quite a bit at Guild meetings; the beauty of belonging to a Guild is being part of the exchange of ideas and information.
You'll probably think of other things to add to this list:
In your car: within easy reach store a can of Flat-Fix"!, a flashlight with new batteries, maps, and clearly written directions to your destinations, and on the reverse side, write the directions home. It' s hard to think clearly when you're tired, and it' s dark, especially when you're in unfamiliar territory!
In your cashbox: a copy of your show application and contract with the promoter This will save arguments about what you paid for, i.e. electricity, an indoor space, 1 ½ spaces, etc.- and your Check-Off List.
Cash: $50 in singles, $30 in fives, rolls of coins, (about $100 total, -adjust to suit your needs.)
In your toolbox or fishing-tackle box: Your Tax Certificate, tax tables, calculator, ball-point pens, e xtra pricing labels, pads of sales slip, plus extras! (In NY State you must have your tax certificate in plain site )
üBusiness cards - lots of them! They are very inexpensive advertising.

ü 3 x 5" cards - for emergency sign replacement, and to track diminishing supplies, etc.

üStraight pins and tacks, to hold your display fabric in place, especially the corners of your display table.

ü Duct tape to hold electrical cords in place, clear tape, and masking tape to hang things on walls without leaving adhesive mess behind, or removing paint!

üUtility knife, (a small, disposable one, with a break-off tip that's always sharp, about 99 cents!)

ü Scissors, clean rag or cloth, Handi-Wipes,(look for the special packages that sometimes come with a small, refillable travel-pack,) or a damp wash-cloth in a baggie.

üSmall pack of tissues, pocket comb, band-aids, aspirin, decongestant, medication, antacid, anti-itching creme, eye lubricant, etc.

üEmery board, sand paper or emery paper.

üFour or five cedar shingles,(- they break apart) or use small pieces of paneling or plywood (about 3 x 6" ) to serve as shims to steady your display on uneven ground.

üSpecialty tools and small parts for emergency repairs or customizing.

üPliers, screwdriver, small hammer.

Most of the above items can be stored in a small toolbox or fishing tackle box. Never borrow from your toolbox and you'll be ready for each show!

Invaluable:

A dolly or a handcart; don't walk back and forth with one or two boxes; you. ll be exhausted by show time. Dollies and hand-carts are inexpensive, ($20 +/- for a lightweight take-apart convertible one.)

What About Lighting?

What will you do if the light bulbs are burned out overhead and you have to set up in a dark corner? --If they can't see it , they won't buy it.
Even if you're not in a dark corner, lights make your display sparkle and everything looks nicer!
If you are not ready for a commercial lighting system, pack a box or old suitcase with:
4 or 5 clip-on type lamps (about $7-8 each) 40 watt bulbs, and an assortment of extension cords,(at least 30-40 feet, total, including at least one heavy duty cord), a 3 to 2 adapter, and a multiplug, (or two.)
Do a run-through and try them. There are new plugs that won't work well with older types of sockets, check it all out. Take extra adapters to solve problems with your hook-up. Use duct-tape to cover your extension cords and tape them to the floor so no one trips . Don't forget to pick up all your tape when you leave.

We cover the following Eastern US States:


*If you would like to mail your credit card information, or to send a check, click here for an order form to print out. Then fax or mail it in.)
Free 7 Day Trial to Craft Show Yellow Pages or Craftmaster News!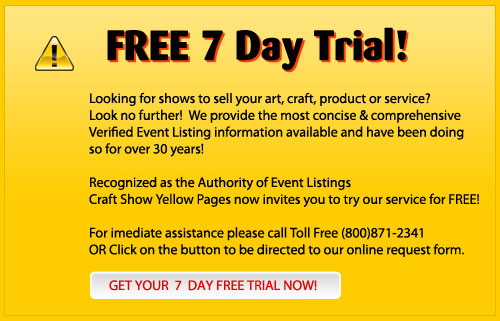 Art & Craft Show Yellow Pages is your #1 Reliable source providing detailed information about Art and Craft Shows, Fairs and Festival. The Online Show Listing System for Crafters, Artist, Vendors and Event Promoters.
When you subscribe to Art & Craft Show Yellow Pages not only will you get 24/7 online access to our unique copyrighted data, but you can also request at any time a printed copy for an additional $15.00 dollars each print (Includes Priority S & H) as long as your subscription is current.
Your one year subscription (1 yr) includes instant access to our online system and as a current member you can benefit from Print-on-Demand, our exclusive member service that allows members to request printed copies of the most current events for an additional $15.00 dollars each print (Includes Priority S & H)
Rent your booth today! Get contact information to each show NOW!

Get Detail information about each show easy and fast with our copywriting quick code format.

Google Geo Coded Radius Zip code search

Show Reviews & Comments by Exhibitors

Easy-to-Read Listings & Reviews
(with our copyrighted data arrangement & organization)

Read your show listings on the GO! Optional Print-on-demand book!

Save on printing costs by using Art and Craft Show Yellow Pages

The Most Complete, Accurate, & Up-To-Date Show Listings, Guaranteed!

Call us toll free at: (800) 871-2341

We list detailed information about the following events:
•Art and Craft Shows
•Fine Art and Fine Craft Shows
•Street Fairs and Festivals
•County & State Fairs
•Home & Garden Shows
•Farmer's Markets
•Antique & Collectible Shows
•Music Festivals
•Car Shows
•Holiday & Gift Shows
...and much more.
Art & Craft Show Yellow Pages ™ is now Online for only $48.95 a year! Faster and easier to find more events, Printed On-Demand for current subscribers only at $15.00 Each Print (Includes Priority S & H).

Click Here to Browse Our Online Database of Events for Sample Event Listings - Now Nationwide!

Sell your arts and crafts at Fairs & Festivals. Find out where the shows are and start selling at local, state and nationwide events. Sell at farmers markets, sell your art at street fairs, sell food at festivals, sell clothing at craft shows, sell jewelry at street fairs and more.
We list all events Nationwide! We include detail verified information for each event! This is the best source for event information and is ideal for vendors looking to sell their products or services whether you are selling food, promotional items, clothing, antiques, jewelry or any items ranging from hand made to buy and sell.
Subscribe NOW and get instant access to the most reliable event listing information you can count on!

Art & Craft Show Yellow Pages is a regional show guide for craftsmen artists, food vendors and resellers in Alabama, Arkansas, Connecticut, Washington DC, Delaware, Florida, Georgia, Iowa, Illinois, Indiana, Kentucky, Louisiana, Massachusetts, Maryland, Maine, Michigan, Minnesota, Missouri, Mississippi, North Carolina, New Hampshire, New Jersey, New York, Ohio, Pennsylvania, Rhode Island, South Carolina, Tennessee, Virginia, Vermont, Wisconsin and West Virginia !
Art & craft show listings contain in-depth details and information to help you choose the right shows to sell your arts and crafts, promotional items, food vending, trade or wholesale.
All shows are not equal.
Choose your shows by targeting your customer. Will your customer be there? We even publish information such as: 3 stages of live music, pony rides, Antique and Classic Car Shows,. . . - more!
Real show listings with detail descriptions like, event attendance, cost of booth, size of booth, what you can sell at each event or signup deadlines to event. Choose from detailed listings according to your preferences; we let you know if a show is indoors, outdoors, in tents, or in a mall. We even publish eligibility requirements, - so you will know if a show is an 'Open Show' a 'Juried Show' or trade or wholesale shows. If a show is predominantly Contemporary, Traditional, or Country , we print that information too, to help you find the right venues to sell your work.
ART and CRAFT SHOW YELLOW PAGES is the most important tool in your business kit! Subscribe with confidence! We guarantee it will help you with your business, or we'll refund the balance of your subscription!
See: www.craftshowlist.com, www.craftsfairguide.com, www.craftmasternews.com, www.artsCraftsShowBusiness.com, http://www.1nbcard.com/artisan.html
List your Art & Craft Shows, Fairs, Festivals, Street Fairs, Garden Shows, Trade & Wholesale shows -