---
Craft Show
Yellow Pages ©

Toll Free: (800) 871-2341
Tel: (562) 869-5882
Fax: (562) 904-0546

Office Hours:
M-F 10am-8pm EST


How to Determine A Show's
~ Real Profitability ~
Courtesy of the National Craft Association
Information for Craftsmen & Artists
The intent here is to evaluate the success of a given show in light of your earnings.
When you are first starting, the income from your efforts will determine how long you can afford to stay involved in the craft industry. Most of us start out with a relatively inexpensive show for two reasons: First: we don't have much money and the fear of loss is greater than the entrepreneurial spirit. Secondly: we are testing the water. We need to see if our product will sell in its present condition or if it needs alterations. Once we have tested ourselves and our product proves to be a saleable item, we can evaluate a show's success based on income.
The first thing to do is establish the cost of production for the items you are selling. The cost of production would include all materials and what you feel your time is worth when manufacturing the products. This is done for several reasons. Sales income and manufacturing income are as different as night and day. To mix them would dilute any formula for profit margins. The IRS treats each very differently. If you ever have an audit, the IRS will want to know the value of your unsold merchandise for tax purposes. If you have a real hot seller and want help in the manufacturing process, knowing the cost of production will allow you to pay your help without hurting yourself.
We cover the following Eastern US States:


*If you would like to mail your credit card information, or to send a check, click here for an order form to print out. Then fax or mail it in.)
What you now have is a reduced equation for figuring the profitability of a show. You now have known quantities of product at a known cost, a specific booth fee and the related costs of transportation and storage, if any. Do not include any expenses you may have incurred for travel or lodging. Using the travel expenses will alter your results for the out-of-town shows and not give you a clear picture in comparison with the local shows.
Your product cost formula is:
Total Product Cost Of Items Taken - (minus) Total Product Cost Of Unsold Items = (equals) Total Product Cost.
Your total expense formula is: Booth Fees + (plus) Total Product Cost = (equals) Show Investment.
The Show Investment represents the amount of money you placed on the line to earn an income. Just like placing money in the bank to draw interest or purchasing stocks to earn dividends. If you did place the Show Investment in the bank or bought stocks with it we would measure our gains in terms of a percent, sometimes called earned interest.
When you put money down on a show you are making an investment. You invest time and skills in the marketplace and measure the results in money. By creating a product cost before you get to the show you have converted your skills and time into money and now you have a basis for evaluating the success of a show.
Show Investment Return formula is: Total Sales minus Show investment = Show Investment = % gain or loss.
For example: Total sales = $350.00, Booth Rent = $ 35.00, Product Cost = $ 84.00. Show Investment = (35.00 + 84.00) = $119.
Plugging this into the formula gives you 350.00 - 119.00 = $231 divided by 119 = 194%. On this show you would have nearly doubled your money. Can you find a bank or stock that in one weekend will give you that type of return? It appears that the show in question was a very successful investment.
Using the concept of investment returns will allow you more flexibility in selecting shows with higher booth fees.
If the return is the same on an investment and all other things are equal, a $300 booth fee for the show numbers listed above should return you an additional $282 for the show period after expenses. That means that a more expensive booth fee could actually be less expensive in the long run. Don't shy away from them, as long as you have enough inventory ready for the larger size show and have tested the salability of your work.
Free 7 Day Trial to Craft Show Yellow Pages or Craftmaster News!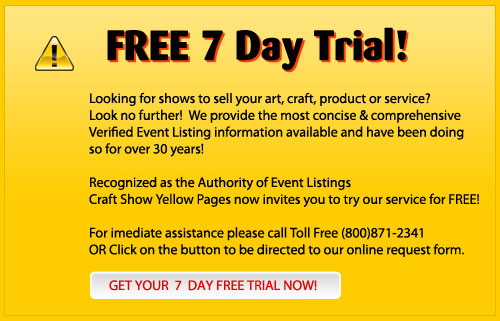 Art & Craft Show Yellow Pages is your #1 Reliable source providing detailed information about Art and Craft Shows, Fairs and Festival. The Online Show Listing System for Crafters, Artist, Vendors and Event Promoters.
When you subscribe to Art & Craft Show Yellow Pages not only will you get 24/7 online access to our unique copyrighted data, but you can also request at any time a printed copy for an additional $15.00 dollars each print (Includes Priority S & H) as long as your subscription is current.
Your one year subscription (1 yr) includes instant access to our online system and as a current member you can benefit from Print-on-Demand, our exclusive member service that allows members to request printed copies of the most current events for an additional $15.00 dollars each print (Includes Priority S & H)
Rent your booth today! Get contact information to each show NOW!

Get Detail information about each show easy and fast with our copywriting quick code format.

Google Geo Coded Radius Zip code search

Show Reviews & Comments by Exhibitors

Easy-to-Read Listings & Reviews
(with our copyrighted data arrangement & organization)

Read your show listings on the GO! Optional Print-on-demand book!

Save on printing costs by using Art and Craft Show Yellow Pages

The Most Complete, Accurate, & Up-To-Date Show Listings, Guaranteed!

Call us toll free at: (800) 871-2341

We list detailed information about the following events:
•Art and Craft Shows
•Fine Art and Fine Craft Shows
•Street Fairs and Festivals
•County & State Fairs
•Home & Garden Shows
•Farmer's Markets
•Antique & Collectible Shows
•Music Festivals
•Car Shows
•Holiday & Gift Shows
...and much more.
Art & Craft Show Yellow Pages ™ is now Online for only $48.95 a year! Faster and easier to find more events, Printed On-Demand for current subscribers only at $15.00 Each Print (Includes Priority S & H).

Click Here to Browse Our Online Database of Events for Sample Event Listings - Now Nationwide!

Sell your arts and crafts at Fairs & Festivals. Find out where the shows are and start selling at local, state and nationwide events. Sell at farmers markets, sell your art at street fairs, sell food at festivals, sell clothing at craft shows, sell jewelry at street fairs and more.
We list all events Nationwide! We include detail verified information for each event! This is the best source for event information and is ideal for vendors looking to sell their products or services whether you are selling food, promotional items, clothing, antiques, jewelry or any items ranging from hand made to buy and sell.
Subscribe NOW and get instant access to the most reliable event listing information you can count on!

Art & Craft Show Yellow Pages is a regional show guide for craftsmen artists, food vendors and resellers in Alabama, Arkansas, Connecticut, Washington DC, Delaware, Florida, Georgia, Iowa, Illinois, Indiana, Kentucky, Louisiana, Massachusetts, Maryland, Maine, Michigan, Minnesota, Missouri, Mississippi, North Carolina, New Hampshire, New Jersey, New York, Ohio, Pennsylvania, Rhode Island, South Carolina, Tennessee, Virginia, Vermont, Wisconsin and West Virginia !
Art & craft show listings contain in-depth details and information to help you choose the right shows to sell your arts and crafts, promotional items, food vending, trade or wholesale.
All shows are not equal.
Choose your shows by targeting your customer. Will your customer be there? We even publish information such as: 3 stages of live music, pony rides, Antique and Classic Car Shows,. . . - more!
Real show listings with detail descriptions like, event attendance, cost of booth, size of booth, what you can sell at each event or signup deadlines to event. Choose from detailed listings according to your preferences; we let you know if a show is indoors, outdoors, in tents, or in a mall. We even publish eligibility requirements, - so you will know if a show is an 'Open Show' a 'Juried Show' or trade or wholesale shows. If a show is predominantly Contemporary, Traditional, or Country , we print that information too, to help you find the right venues to sell your work.
ART and CRAFT SHOW YELLOW PAGES is the most important tool in your business kit! Subscribe with confidence! We guarantee it will help you with your business, or we'll refund the balance of your subscription!
See: www.craftshowlist.com, www.craftsfairguide.com, www.craftmasternews.com, www.artsCraftsShowBusiness.com, http://www.1nbcard.com/artisan.html
List your Art & Craft Shows, Fairs, Festivals, Street Fairs, Garden Shows, Trade & Wholesale shows -