---
Craft Show
Yellow Pages ©

Toll Free: (800) 871-2341
Tel: (562) 869-5882
Fax: (562) 904-0546

Office Hours:
M-F 10am-8pm EST


~ What Happened to Our Shows? ~ An Examination of the Marketplace
Here, in New York' s Hudson Valley, craftsmen have been complaining about the show scene, and to a certain extent they're justified. Part of the reason that shows have been off is the economy. Despite reports that the economy is booming, the boom is limited to certain industries, in certain sections of our area.
Electronics and telephone system installations for small companies (100 employees or less) is on the upswing in this area, -among other industries, and there is an upswing in the real estate market, south of Rte. 55. This area is experiencing an influx of minorities and low-income people from New York city as they bring their familes to the area to enjoy better standards of living.
Six years ago IBM closed its plant in Kingston and buildings in Fishkill and East Fishkill emptied as they transferred personnel out of state, and laid off thousands. The economy has never truly regained confidence as those who are still working for IBM await the sword.
We cover the following Eastern US States:


*If you would like to mail your credit card information, or to send a check, click here for an order form to print out. Then fax or mail it in.)


Local businesses depending on IBM corporate business have folded, e.g. the little rent-a-car outpost on the outskirts of Kingston was one of the first to bite the dust. It was heavily-dependent on traveling executives, and they could no longer justify staying open. The economy also affected many restaurants and retail stores.

In the midst of this climate comes the big retail super discount stores, edging out the little Mom-and-Pop appliance stores, office equipment. building supplies, gift shops, - and others.

Dutchess County is over-retailed. The Poughkeepsie Galleria made a splash as the first major mall in the area about 12 years ago; we watched small stores migrate to the malls or go under. It is going to start construction to double its size, a demographicly unjustified move in my opinion.

Our local economy is only one of hundreds, nationwide, undergoing changes as major corporations downsize, -including General Electric, Kodak, Douglas, Cocoa-Cola, etc.

NAFTA and preferred-nation status also have their finger in the pie; the fallout is evident in the proliferation of cute little import stores. 'Buy American' is no longer a battle-cry. Who can 'buy American' when car parts are Japanese-made and assembled in Canada, wear American brand names, and appear to be American-made? Well, "-not exactly" as the commercial says.

Consider the 'graying of America.' As Charley Dooley (Craftproducers) so accurately described in a letter to his craftsmen a year or two ago, the market has changed. People who have supported the craft market in the past are older, their kids are grown and living on their own; they've downsized their homes, and they don't have room for more "stuff."

Their children work, but they're not going to buy the same . stuff. they grew up with. They want new, innovative, unique products to live with, - and they are willing to pay for them.

The market for high-end items is wide open. People are willing to buy at high-end shows. Price is no object if they want it.

Inexpensive items sell well, they always have. (Consider the $5 thingee-on-a-stick fad.)

It's the skilled craftsman who produces medium-priced work whose sales are down across the board. Some craftsmen buy imported Teddy Bears or cloth frogs, slap a vest or a hat on them, and sell them as hand-crafted. They have no idea how they are sabotaging their own markets. Customers recognize these items, and are turned-off. Why go to a craft show to buy imports? They can buy them at the mall.

Add to these circumstances a proliferation of craftshows unmatched in memory, and you. ll see why customers who have been enthusiastic are becoming jaded.


SHOWS: Survival of the Fittest
As I collect data for Art & Craft Show Yellow Pages™, I come across many shows that have been cancelled. Sometimes the show was more trouble than it was worth as a fund-raiser. The community didn't support it, the craftsmen complained, and it became more difficult to raise money for their project, so they cancelled the show. It's a shake-out of the marketplace, and good for the industry as a whole.
Some shows are in the right demographic area, run by knowlegeable and concerned people. There are successful shows in other than the best demographic areas; it depends on the show organizer, the type of show, the amount of advertising he does for the show, what else is going on in the area that may conflict with the show, (major league football games, appliance/clothing sales, good weather, bad weather, job layoffs, etc.) Some of these things are out of your control, but there are factors you can use to put the odds in your favor.
Established professionals usually, (but not always) have an edge over volunteers who have a personnel turnover every few years. Network with other craftsmen in your price-range to find good shows.
If possible, before you sign up for a show that is significantly more expensive than your usual show, go as a customer. Will your work fit in here? Is the quality, range of prices, etc. comparable? Is your display as professional as these? This type of evaluation can save you disappointment, and inspire you to grow and try new venues.
To Maintain Sales

Schedule a few new shows every year. The old favorites you schedule every year will eventually change, or you'll saturate the area with your product, and you may need to replace them.
Within Your Control

Create higher-end work while you continue to produce your regular line, and watch your customers' reactions; listen to what they tell you when they handle the piece. Eventually your work will evolve as you learn to assess the market.
Be willing to travel a bit fartheror in new directions . Sometimes a show in a nearby state is closer than one at the other end of your own state. Get a tax certificate so you can sell your work there, and test the waters.
Keep your product pure, within reason. Don' t use manufactured or imported work as the main part of your product. A small component part of a piece may be manufactured or imported, and it won. t detract from the piece, such as a catch on a necklace, but consider how much better it would look with a hand-crafted finding. If it's an expensive piece, the extra effort is more than worth it, because a manufactured finding lessens the value of your work.
Upgrade your skills by taking classes. Add new dimensions to your work with by experimenting with new techniques and materials.
Unfortunately, none of these solutions will work for everyone. There are no simple answers. The shows have changed; these are simply circumstances that feed the change.
Nothing is static. Everything changes, evolves and grows. The survival of The American Craftsman depends on his willingness to adapt, to be assertive in his choices, to evolve and grow in technique and creativity to meet these changes. It's up to you.
Free 7 Day Trial to Craft Show Yellow Pages or Craftmaster News!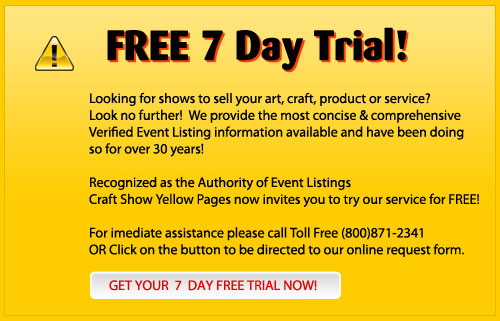 Art & Craft Show Yellow Pages is your #1 Reliable source providing detailed information about Art and Craft Shows, Fairs and Festival. The Online Show Listing System for Crafters, Artist, Vendors and Event Promoters.
When you subscribe to Art & Craft Show Yellow Pages not only will you get 24/7 online access to our unique copyrighted data, but you can also request at any time a printed copy for an additional $15.00 dollars each print (Includes Priority S & H) as long as your subscription is current.
Your one year subscription (1 yr) includes instant access to our online system and as a current member you can benefit from Print-on-Demand, our exclusive member service that allows members to request printed copies of the most current events for an additional $15.00 dollars each print (Includes Priority S & H)
Rent your booth today! Get contact information to each show NOW!

Get Detail information about each show easy and fast with our copywriting quick code format.

Google Geo Coded Radius Zip code search

Show Reviews & Comments by Exhibitors

Easy-to-Read Listings & Reviews
(with our copyrighted data arrangement & organization)

Read your show listings on the GO! Optional Print-on-demand book!

Save on printing costs by using Art and Craft Show Yellow Pages

The Most Complete, Accurate, & Up-To-Date Show Listings, Guaranteed!

Call us toll free at: (800) 871-2341

We list detailed information about the following events:
•Art and Craft Shows
•Fine Art and Fine Craft Shows
•Street Fairs and Festivals
•County & State Fairs
•Home & Garden Shows
•Farmer's Markets
•Antique & Collectible Shows
•Music Festivals
•Car Shows
•Holiday & Gift Shows
...and much more.
Art & Craft Show Yellow Pages ™ is now Online for only $48.95 a year! Faster and easier to find more events, Printed On-Demand for current subscribers only at $15.00 Each Print (Includes Priority S & H).

Click Here to Browse Our Online Database of Events for Sample Event Listings - Now Nationwide!

Sell your arts and crafts at Fairs & Festivals. Find out where the shows are and start selling at local, state and nationwide events. Sell at farmers markets, sell your art at street fairs, sell food at festivals, sell clothing at craft shows, sell jewelry at street fairs and more.
We list all events Nationwide! We include detail verified information for each event! This is the best source for event information and is ideal for vendors looking to sell their products or services whether you are selling food, promotional items, clothing, antiques, jewelry or any items ranging from hand made to buy and sell.
Subscribe NOW and get instant access to the most reliable event listing information you can count on!

Art & Craft Show Yellow Pages is a regional show guide for craftsmen artists, food vendors and resellers in Alabama, Arkansas, Connecticut, Washington DC, Delaware, Florida, Georgia, Iowa, Illinois, Indiana, Kentucky, Louisiana, Massachusetts, Maryland, Maine, Michigan, Minnesota, Missouri, Mississippi, North Carolina, New Hampshire, New Jersey, New York, Ohio, Pennsylvania, Rhode Island, South Carolina, Tennessee, Virginia, Vermont, Wisconsin and West Virginia !
Art & craft show listings contain in-depth details and information to help you choose the right shows to sell your arts and crafts, promotional items, food vending, trade or wholesale.
All shows are not equal.
Choose your shows by targeting your customer. Will your customer be there? We even publish information such as: 3 stages of live music, pony rides, Antique and Classic Car Shows,. . . - more!
Real show listings with detail descriptions like, event attendance, cost of booth, size of booth, what you can sell at each event or signup deadlines to event. Choose from detailed listings according to your preferences; we let you know if a show is indoors, outdoors, in tents, or in a mall. We even publish eligibility requirements, - so you will know if a show is an 'Open Show' a 'Juried Show' or trade or wholesale shows. If a show is predominantly Contemporary, Traditional, or Country , we print that information too, to help you find the right venues to sell your work.
ART and CRAFT SHOW YELLOW PAGES is the most important tool in your business kit! Subscribe with confidence! We guarantee it will help you with your business, or we'll refund the balance of your subscription!
See: www.craftshowlist.com, www.craftsfairguide.com, www.craftmasternews.com, www.artsCraftsShowBusiness.com, http://www.1nbcard.com/artisan.html
List your Art & Craft Shows, Fairs, Festivals, Street Fairs, Garden Shows, Trade & Wholesale shows -